Croissance
Tech Biz Day with

An event dedicated to all stakeholders in the Medtech ecosystem


From Innovation to Medical electronics:
X-FAB, an enabling partner
Thursday, October 17th, 2019 from 9:00 am to 5:00 pm
- Hôtel NH Lyon Airport, Lyon -
Program of the Day
09:00 - 09:15: Welcome
Jean-Eric Michallet, Minalogic
Johan Lecocq, DSP Valley
Grégory Vernier, Medicalps
09:15 - 09:30: CEO introduction - Rudi De Winter, X-FAB
09:30 - 10:00: Overview of medical products using X-FAB technologies - Ulrich Bretthauer, X-FAB
10:00 - 10:30: X-FAB's support along the customer journey - Yves Dufour, X-FAB
10:30 - 11:00: Break
11:00 - 11:30: Trends in Healthcare - Jerôme Mouly, Yole
11:30 - 12:30: The application of silicon chips in healthcare - X-FAB customers
Miniaturizing medical grade infrared temperature sensors: on the verge of massive adoption (Melexis NV, Joris Roels, Marketing manager Temperature Sensors)

Biochemical detection at the Point of Care driven by a CMOS/MEMS sensor (Boehringer Ingelheim, Dr Heinz Schoeder, Head of Global Diagnostics & Monitoring R&D)

Nanotechnology for point-of-care diagnostics (Abionic, Iwan Märki, CTO and Co-Founder)
12:30 - 14:00: Lunch
14:00 - 17:00: Parallel sessions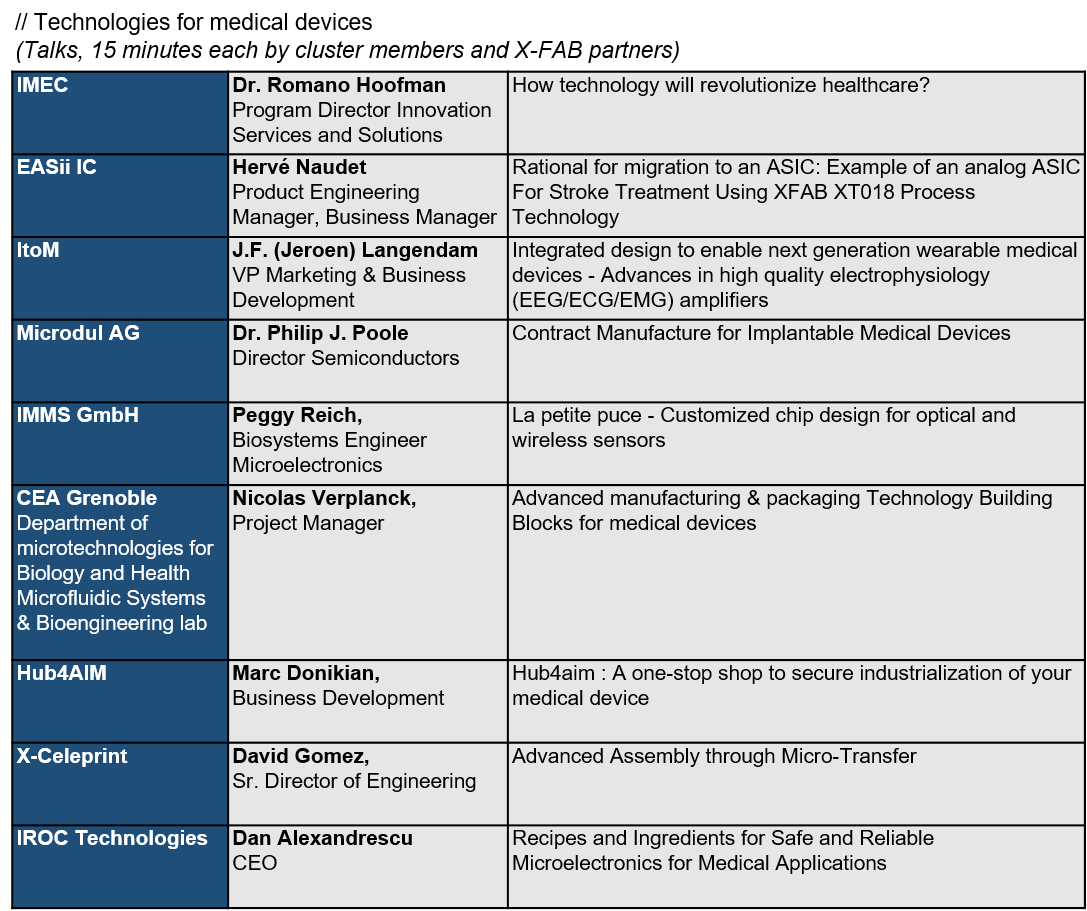 You will also have the opportunity to book B2B meetings with other participants (the list will be available no later than October 1st).
X-FAB representatives
Rudi De Winter, CEO
Jens Kosch, CTO
Luigi Di Capua, VP Product Marketing
Volker Herbig, VP Business Unit MEMS
Dirk Drescher, CEO X-FAB France
Ulrich Bretthauer, Senior Product Marketing Manager Medical
Pascal Louis, Director Process Development
Gabriel Kittler, Innovation Manager
Venue
Hôtel NH, Lyon airport

Participation Fees
Member of DSP Valley, Medicalps or Minalogic: 100 € (excl.VAT)
Non member: 300 € (excl.VAT)
Only the selected participants will be invoiced.
Registration and application procedure
The participation is subject to approval from X-FAB.
The companies will be informed if they are selected after the selection committee no later than October 1st.
If you have any questions about the event please feel free to contact us at:
erasmia.dupenloup@minalogic.com | T : +33 (0)4 38 78 37 64 | M : +33 (0)6 45 59 10 57
catherine.jury@minalogic.com | T : +33 (0)4 38 78 47 36 | M : +33 (0)7 76 08 29 78
About X-FAB
X-FAB is the leading specialty foundry group for analog/mixed-signal semiconductor technologies with a clear focus on automotive, industrial, and medical applications. As a specialty foundry, X-FAB provides manufacturing and strong design support services to its customers that design analog/mixed-signal integrated circuits (ICs) and other semiconductor devices for use in their own products or the products of their customers.
As a pure-play foundry X-FAB manufactures ICs based on designs created by its customers or third parties in cooperation and mostly based on X-FAB's portfolio of modular, highly specialized proprietary process technologies and IP.
The X-FAB group has an established track record, with over 25 years of experience providing proprietary manufacturing processes, advanced design and engineering support offerings. Excellent service, remarkable responsiveness and reliability as well as first-class technical support, that's what X-FAB stands for. X-FAB's analog-digital integrated circuits (mixed-signal ICs), sensors and micro-electro-mechanical systems (MEMS) are manufactured at six production facilities in Germany, France, Malaysia and the U.S. X-FAB employs about 4,000 people worldwide. For more information, please visit www.xfab.com
About MEDICALPS
MEDICALPS is a healthcare industry cluster (biotechnologies, medical devices, e-heath) in the heart of French Alps. MEDICALPS accelerates the time to international market and enhances connections within the local healthcare ecosystem.
About DSP Valley
DSP Valley is an independent cluster of excellence in smart electronic systems and embedded technology solutions. DSP Valley groups 100+ members: universities, research institutes and companies, from small start-ups, over SMEs to large international groups with a local R&D activity. DSP Valley offers its members a networking platform that allows them to explore each other's expertise and that stimulates innovation by exploiting complementarities.
Date
From 17/10/2019 - 09:00 to 17/10/2019 - 17:00
Place
Hôtel NH Lyon Airport, 915 Rue d'Espagne, 69125 Colombier-Saugnieu