Croissance

World's leading trade fair and conference for electronics.
Electronica is the international trade fair for the electronics industry. Here on Planet, visitors experience the entire world of electronics. Here are the most important reasons for you to participate at a glance.
Key figures 2018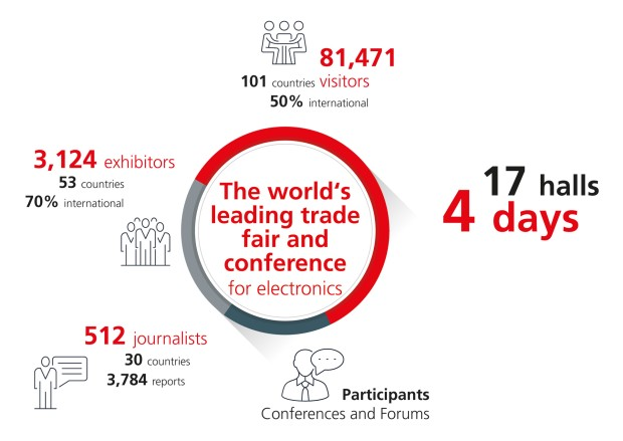 With 3,100 exhibitors from over 50 countries and 182,000 square meters of exhibition space in 2018, electronica is the world's most important trade fair for the electronics industry.

80,000 people from over 80 countries attended the last electronica, which takes place every two years.
Comprehensive range of exhibits

The range of exhibits at electronica covers technologies, products and solutions in the entire electronics industry. The trade fair presents industry trends and, in doing so, helps visitors stay oriented on the electronics industry's global market.
International business platform

electronica's visitors represent nearly all consumer segments and user branches of industry. They include a large number of decision-makers from Germany and abroad who have budgets to invest.
Extensive supporting program

electronica's extensive program of supporting events includes sixteen theme-oriented forums and four high-profile conferences. They give participants an opportunity to exchange information with experts about the latest developments.
Global network

Besides electronica, Messe München organizes other regional trade fairs in rapidly growing markets. electronica China, for example, allows companies to showcase themselves on the important Asian market.
Date
From 10/11/2020 - 10:00 to 13/11/2020 - 17:00